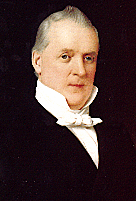 President 1857-1861 / Master Mason 1817
Master Mason 1817, Entered Apprentice Dec. 11, 1816, Lancaster Lodge No. 43, Lancaster, PA, Fellowcraft & Master Mason degrees in 1817.
President Buchanan was the Junior Warden of his lodge from 1821 to 1822, and the Worshipful Master of the lodge in 1825. He was later exalted in Royal Arch Chapter No. 43, in 1826 going on to become Deputy Grand Master of the Grand Lodge of Pennsylvania.
Said of Buchanan in his work President James Buchanan: A Biography, by Philip S Klein, "His many talents, which in a quieter era might have gained for him a place among the great presidents, were quickly overshadowed by the cataclysmic events of civil war and by the towering Abraham Lincoln."