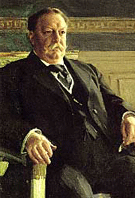 President 1909-1913 / Master Mason 1901
President Taft was made a Master Mason at Sight in Kilwinning Lodge No. 356, in Cincinnati, Ohio, in 1901.
That made him a member at large, until the Grand Lodge issued a demit to Taft when he became a regular member of that lodge. Somewhat active, Taft was very supportive of Freemasonry.
More on on Taft an Freemasonry from the National Heritage Museum: Making a Mason at Sight: The Case of President-Elect Taft.
To the diversity of faith that Freemasonry supports, Tast was a member of the First Congregational-Unitarian Church which he joined at an early age through his parents.
It is suggested that as he rose in government, he spent little time in Cincinnati. and attended the church infrequently worshiping when he could.